Last Amazon price update was: December 3, 2020 10:43 pm
Sircuit Skin Eye Tech .5 oz
anti-wrinkle eye emulsion
Eye Tech is a luxurious eye treatment packed with a powerhouse of anti-aging and protective botanicals, as well as state of the art anti-wrinkle ingredients such as ChronNoline, FiFlow,
Ceramide
1
3, and
Echinacea
19
Stem Cells. This precious emulsion is extremely effective at firming and plumping the skin, by reducing the look of fine lines (not just around the delicate skin of the eyes but of the skin on your entire face and neck). This obsession will be your new smooth secret by helping to keep you looking rested, reducing puffiness, and softening lines. Your youthful moisture is restored and surface lines are reduced allowing you to look fabulous at every age. Ready for your close-up?
Benefits:
Rapidly smoothes and reduces fine lines and wrinkles.
Provides intense hydration, instant skin volume, and muscular relaxation.
Helps instantly lift and revitalize the look of tired eyes.
Strengthens and thickens the delicate skin around the eye.
Promotes healing and cell turnover.
Provides both instant and cumulative results
Featured Ingredients:
Borago Officinalis Seed Oil26: Borage Oil, AKA Starflower, contains a high concentration of GLA (Gamma Linolenic Acid13), combats inflammation and restores moisture and smoothness to dry skin.
Cassia Angustifolia Seed Polysaccharide: From the seeds of the Indian Senna plant, botanical alternative to Hyaluronic Acid2, for immediate and intense moisturizing effects that last up to 24 hours, plumps out fine lines to provide a smoother, more radiant complexion.
ChroNOline (Caprooyl Tetrapeptide-323): Peptide derived from Growth Factor derivatives, clinically proven to reduce the appearance of wrinkles by 29% in 28 days, helps stimulate the production of collagen20, laminin and fibronectin17 in the DEJ (Dermal Epidermal Junction) maintaining skin's youthful firmness.
Retinyl Palmitate: Vitamin A, anti-aging, antioxidant, protective.
Fi-Flow: In cosmetic formulations, acts in multiple levels (fast penetration, instant skin volume, muscular relaxation, cellular detoxification) to impart Botox-like effect.
Ceramide 3: reinforces the natural lipid barrier of dry and aging skin, improves long term moisturization, protects skin from the environment, a blend of lipids that supports the Natural Moisturizing Factor in skin.
Beta-Glucan (D): (from oats): wound healing, immune enhancer and skin strengthening, antioxidant, anti-aging, skin immune cell macrophage activation, protects and moisturizes, promotes healing through cell turnover, stimulates collagen synthesis, antioxidant.
Ingredients:
Aqua
(
Water
),
Caprylic/Capric Triglyceride
24
,
Stearic Acid
5
,
Glyceryl Stearate
15
,
Glycerin
16
*,
Squalane
6
,
Cetearyl Alcohol
,
Polysorbate 60
9
,
Cetyl Alcohol
22
,
Aloe31 Barbadensis Leaf Juice Powder27
*, Sweet
Almond Oil
3
,
Elaeis
Guineensis
(Palm) Oil
29
,
Borago Officinalis Seed Oil
*,
Olive Oil
,*,
Lavender
14
Oil*,
Rosa Damascena30 Flower7
Oil, Jasminum Officinale (Jasmine) Oil,
Cassia Angustifolia
Seed Polysaccharide,
Sunflower Seed Oil
,
Retinyl Palmitate
,
Perfluorodecalin
28
,
Ceramide
3,
Beta-Glucan
(D),
Caprylyl Glycol
25
,
Sodium Hyaluronate
4
(L),
Tocotrienols
,
Caprooyl Tetrapeptide-3
,
Tocopherol
(D-alpha),
Perfluorohexane
11
,
Perfluoroperhydrophenanthrene
,
Sodium Hydroxide
,
Echinacea
Angustifolia Meristem Cell Culture,
Potassium Sorbate
,
Phytic Acid
10
,
Citric Acid
21
,
Dextran
,
Phenethyl Alcohol
12
,
Xanthan Gum
. *USDA Certified Organic / NOP. Phthalate free.
How To:
Gently smooth on a small amount of Eye Tech around the eye area once or twice a day. May also be applied to areas of concern on other parts of the face and neck. It can be also be worn as an effective anti-aging moisturizer.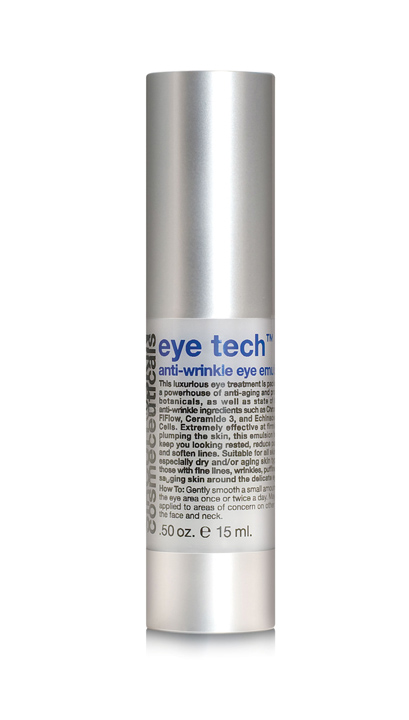 productID=524974803
| Ingredient | What it does |
| --- | --- |
| 1ceramide | can help restore the skin's barrier system; improves texture, reduces topical irritation, restores moisture |
| 2hyaluronic acid | A humectant moisturizer; proven to boost skin's moisture content, reduce inflammation, have cell-communicating abilitites & help prevent moisture loss |
| 3almond oil | an emollient oil rich in fatty acids, great for dry skin |
| 4sodium hyaluronate | A humectant moisturizer; proven to boost skin's moisture content, reduce inflammation, have cell-communicating abilitites & help prevent moisture loss |
| 5stearic acid | emulsifier; cleaning agent; stabilizes emulsions; lipophilic thickener; texturizer. Stearic acid is naturally found in skin and is used in cleansers to reduce cleansing-induced damage, aid in moisturization, and replenish with skin-natural lipids. |
| 6squalane | light emollient veg oil, can be antibacterial & moisturizing; might break out some people |
| 7Rosa Damascena Flower | moisturizing |
| 8preservatives | Used as a preservative or enhances the efficacy of preservatives |
| 9polysorbate 60 | thickening agent, emulsifier, mild surfactant; used to form emulsions |
| 10phytic acid | antioxidant with moisturizing, deodorizing & chelating properties |
| 11Perfluorohexane | a solvent to dissolve things in a formula |
| 12Phenethyl Alcohol | fragrant ingredient with antimicrobial properties; preservative |
| 13linolenic acid | helps improve many skin concerns, including eczema, psoriasis, acne, and non-melanoma skin cancers; can help repair skin's barrier function and reduce pro-inflammatory substances that would otherwise cause damage. It is believed to communicate with cells that comprise skin's immune system, as evidenced by research showing that topical linolenic (and similar) fatty acids improve wound healing |
| 14lavender | Mainly used for aromatherapy than skincare; mild antimicrobial/anti-inflammatory effects make it useful as part of a preservative system in a product; fragrance components oxidize on skin & can cause irritation |
| 15glyceryl stearate | self-emulsifying emollient & thickening agent, the higher up an ingredient list it is, the thicker the formula |
| 16Glycerin | A humectant moisturizer; usually used as a base in (light) moisturizers |
| 17Fibronectin | moisturizing |
| 18fragrance | Fragrance in skin care is like spraying perfume on your face. Smells nice, but potentially irritating and damaging to your skin's acid mantle. Especially if these ingredients are high up on the ingredient list. |
| 19Echinacea | soothing properties |
| 20collagen | humectant moisturizer; film-former; has never been shown to have a direct effect on producing or building collagen in skin |
| 21citric acid | mainly used as a cleaning agent & preservative; pH adjuster; in higher concentration it's an AHA (in peels & antiaging products) |
| 22Cetyl Alcohol | emollient moisturizing, emulsifying, emulsion stabilizing, foam boosting, masks the scent of other ingredients in a formula , opacifying aka makes the formula less clear, cleansing surfactant, viscosity controlling |
| 23Caprooyl Tetrapeptide-3 | skin protectant |
| 24Caprylic/Capric Triglyceride | Coconut derived emollient moisturizer, sometimes used as a thickener. Rich in fatty acids that replenish skin; has a silky, dry oil feel |
| 25caprylyl glycol | An alcohol, derived from a plant which is used as an emollient and coconut derived preservative. |
| 26Borago Officinalis Seed Oil | emollient moisturizer |
| 27Aloe Barbadensis Leaf Juice Powder | moisturizing |
| 28perfluorodecalin | Odorless, colorless, non-volatile, low viscosity liquids; Non-sensitizing, Non-irritant Non-greasy; Refreshes and smooths the skin; Enhances the appearance of tacky and sticky final products; Can be used in color products for enhanced color endurance Creates a third phase emulsion and acts as a co-emulsifier; Creates a thin film application with basic water proofing properties; Creates transient gel structure; Does not interfere with the normal function of the skin |
| 29(palm) Oil | emollient skin-conditioner; antioxidant |
| 30Rosa damascena | Rose extract was found to inhibit the growth of P. acnes bacteria with respective minimum inhibitory concentrations of 2, 0.5, and 1 mg/ml, in one in vitro study. |
| 31aloe | emollient moisturizer with anti-inflammatory; antioxidant, & antibacterial qualities |
Searched 19,541 products for a match. Possible dupes found...