Last Amazon price update was: January 16, 2022 3:31 am
Sircuit Skin Eye Tech .5 oz
anti-wrinkle eye emulsion
Eye Tech is a luxurious eye treatment packed with a powerhouse of anti-aging and protective botanicals, as well as state of the art anti-wrinkle ingredients such as ChronNoline, FiFlow,
Ceramide
[30]
3, and
Echinacea
[31]
Stem Cells. This precious emulsion is extremely effective at firming and plumping the skin, by reducing the look of fine lines (not just around the delicate skin of the eyes but of the skin on your entire face and neck). This obsession will be your new smooth secret by helping to keep you looking rested, reducing puffiness, and softening lines. Your youthful moisture is restored and surface lines are reduced allowing you to look fabulous at every age. Ready for your close-up?
Benefits:
Rapidly smoothes and reduces fine lines and wrinkles.
Provides intense hydration, instant skin volume, and muscular relaxation.
Helps instantly lift and revitalize the look of tired eyes.
Strengthens and thickens the delicate skin around the eye.
Promotes healing and cell turnover.
Provides both instant and cumulative results
Featured Ingredients:
Borago Officinalis Seed Oil[3]: Borage Oil[10], AKA Starflower, contains a high concentration of GLA (Gamma Linolenic Acid[18]), combats inflammation and restores moisture and smoothness to dry skin.
Cassia Angustifolia[26] Seed Polysaccharide: From the seeds of the Indian Senna plant, botanical alterna[41]tive to Hyaluronic Acid[14], for immediate and intense moisturizing effects that last up to 24 hours, plumps out fine lines to provide a smoother, more radiant complexion.
ChroNOline (Caprooyl Tetrapeptide-3[4]): Peptide derived from Growth Factor derivatives, clinically proven to reduce the appearance of wrinkles by 29% in 28 days, helps stimulate the production of collagen[32], laminin and fibronectin[24] in the DEJ (Dermal Epidermal Junction) maintaining skin's youthful firmness.
Retinyl Palmitate[40]: Vitamin A[40], anti-aging, antioxidant, protective.
Fi-Flow: In cosmetic formulations, acts in multiple levels (fast penetration, instant skin volume, muscular relaxation, cellular detoxification) to impart Botox-like effect.
Ceramide[30] 3: reinforces the natural lipid barrier of dry and aging skin, improves long term moisturization, protects skin from the environment, a blend of lipids that supports the Natural Moisturizing Factor in skin.
Beta-Glucan[8] (D): (from oats): wound healing, immune enhancer and skin strengthening, antioxidant, anti-aging, skin immune cell macrophage activation, protects and moisturizes, promotes healing through cell turnover, stimulates collagen[32] synthesis, antioxidant.
Ingredients:
Aqua
[34]
(
Water
[34]
),
Caprylic/Capric Triglyceride
[2]
,
Stearic Acid
[22]
,
Glyceryl Stearate
[7]
,
Glycerin
[39]
*,
Squalane
[37]
,
Cetearyl Alcohol
[16]
,
Polysorbate 60
[17]
,
Cetyl Alcohol
[16]
,
Aloe Barbadensis Leaf Juice Powder
[1]
*,
Sweet Almond Oil
[28]
,
Elaeis
[38]
Guineensis
(Palm) Oil
[38]
,
Borago Officinalis Seed Oil
[3]
*,
Olive Oil
[5]
,*,
Lavender
[35]
Oil*,
Rosa Damascena Flower
[6]
Oil, Jasminum Officinale (Jasmine) Oil,
Cassia Angustifolia
[26]
Seed Polysaccharide,
Sunflower Seed Oil
[20]
,
Retinyl Palmitate
[40]
,
Perfluorodecalin
[11]
,
Ceramide
[30]
3,
Beta-Glucan
[8]
(D),
Caprylyl Glycol
[12]
,
Sodium Hyaluronate
[14]
(L),
Tocotrienols
[21]
,
Caprooyl Tetrapeptide-3
[4]
,
Tocopherol
[36]
(D-alpha),
Perfluorohexane
[15]
,
Perfluoroperhydrophenanthrene
[11]
,
Sodium Hydroxide
[13]
,
Echinacea
[31]
Angustifolia Meristem Cell Culture,
Potassium Sorbate
[19]
,
Phytic Acid
[25]
,
Citric Acid
[27]
,
Dextran
[23]
,
Phenethyl Alcohol
[9]
,
Xanthan Gum
[29]
. *USDA Certified Organic / NOP. Phthalate free.
How To:
Gently smooth on a small amount of Eye Tech around the eye area once or twice a day. May also be applied to areas of concern on other parts of the face and neck. It can be also be worn as an effective anti-aging moisturizer.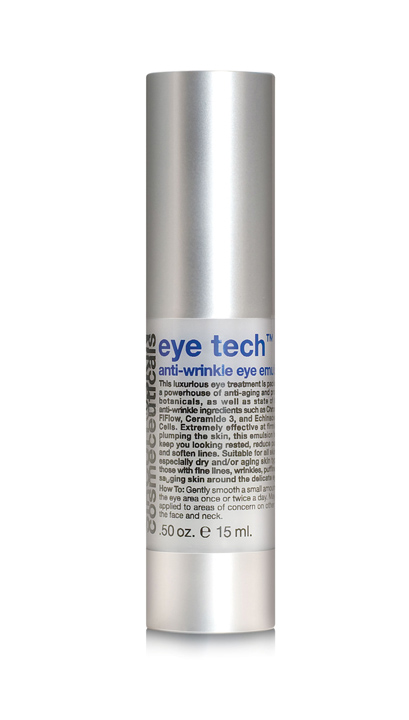 productID=524974803
Searched 22,035 products for a match. Possible dupes found...