Last Amazon price update was: September 12, 2021 9:44 am
Sircuit Skin Dreamweaver+ 1.3 oz
night time skin repair
Dreamweaver+ nighttime skin repair is a soothing, ultra-rich, moisturizing treatment developed to restore moisture, nourish, and protect your skin while you sleep. Now SUPERCHARGED with a special encapsulated form of Epidermal Growth Factor, as well as new coconut growth factors that help to reinvigorate your skin, ensuring you'll rise and shine to a smoother, more rested and refreshed complexion. The powerful antioxidant, Spin Trap (PBN), and the amino acid antioxidant, L-Ergotheioneine (Thiotaine), along with R-lipoic acid work overtime to minimize the effects of free radical damage by attacking the signs of aging and fatigue, as well as providing additional mitochondrial protection. Deeply replenishing Chirally Correct D-Beta-Fructan from Date Palm keeps the skin hydrated and D-Beta-Glucosamine helps to smooth the appearance of fine lines. Dreamweaver is also now fortified with L-Carnosine, along with the added ingredient Kombuchka, which assist the skin in remaining soft and supple. And… if that wasn't enough, we have also added collagen boosting Gardenia Stem Cells. Say good-bye to your dry complexion with this enticing blend of moisturizing ingredients that will lavish your skin in continuous first class moisture. Skin Type: Ideal for dry, dehydrated, and/or aging skin types.
Nighty nite, sweet dreams!
Benefits:
Hydrates and replenishes the skin's moisture balance.
Encourages the natural process of healing and cell renewal.
Diminishes the appearance of fine lines and wrinkles.
Repairs aging skin.
Minimizes the effects of free radical damage.
Combats dryness to restore comfort and elasticity.
Improves skin texture and tone.
Featured Ingredients:
Gardenia Stem Cells (Gardenia Jasminoides Meristem Cell Culture, Glycerin, Xanthan Gum) -collagen booster, and helps to prevent collagen degradation, a highly effective MMPI.
Thiotaine (L-Ergothioneine) – amino acid that is a potent antioxidant very effective in protecting against UV damage, helps protect DNA, helps even skin tone.
Kombuchka (Saccharomyces/Xylinum/Black Tea Ferment, Glycerin, Hydroxyethylcellulose) – anti-glycation agent to keep skin soft and supple, boosts skin's immune function, restores volume, improves smoothness and radiance, increases luminosity, rich in organic acids and vitamins.
Organic Olive Oil – softens and moisturizes the skin.
Coconut Fruit Juice (Cococin) – coconut endosperm, rich in growth factors.
Licorice Root – soothing, skin clearing, skin brightening.
Slippery Elm – soothing, herb.
Chamomile – soothing, calming.
Aloe Vera – soothing.
Fructan (D-Beta) (D-Beta Fructooligosaccharides) – from Date Palm, helps the skin moisturize itself.
Spin Trap (Phenyl t-Butylnitrone) – the "intelligent" antioxidant and the most powerful anywhere.
Tocopherol (D-Alpha) – this is the Chirally Correct form of Vitamin E and the most effective (twice as potent and retained twice as well as the less effective DL-Alpha Tocopherol).
EGF (AC EGF Liposome) – EGF encapsulated in a liposome for more effective delivery, anti-aging, plays an important role in cell growth, and proliferation.
R-Lipoic Acid – this is the Chirally Correct form, very important antioxidant, called the "universal antioxidant", helps prevent cross- linking, helping to maintain elasticity, improves skin texture and reduce the appearance of wrinkles, helps protect the mitochondria.
Glucosamine (D-Beta) (Glucosamine HCI) – from Chinese Foxglove, helps to strengthen and smooth the skin.
Carnosine (L) – anti-glycation amino acid, helps keep skin elastic and wrinkle free, a super antioxidant that quenches even the most destructive free radicals.
Tocotrienols – antioxidant, more powerful than Vitamin E.
Squalane – easily absorbed emollient to keep skin soft and healthy, helps guard against UV radiation.
Shea Butter – from the Karite Tree, soothing, moisturizing, emollient.
Free of artificial preservatives, colors, or fragrance and always cruelty free.

Ingredients:
Aqua (Water), Caprylic/Capric Triglyceride, Stearic Acid, Shea Butter, Glycerin*, Glyceryl Stearate, Cetearyl Alcohol, Polysorbate 60, Cetyl Alcohol, Ergothioneine (L), Gardenia Jasminoides Meristem Cell Culture, Aloe Barbadensis Leaf Juice Powder*, Saccharomyces/Xylinum/Black Tea Ferment, Olive Oil,*, Sweet Almond Oil, Cocos Nucifera (Coconut) Fruit Juice, Glycyrrhiza Glabra (Licorice) Root Extract, Sunflower Seed Oil, Trisodium Ethylenediamine Disuccinate, Ulmus Fulva (Slippery Elm) Bark Extract, Chamomile Flower Extract, Fructooligosaccharides (D-beta), Phenyl t-Butylnitrone (Spin Trap), Elaeis Guineensis (Palm) Oil, Witch Hazel Water, Vanillin, Tocopherol (D-alpha), rh-Oligopeptide-1 (EGF), Thioctic (R-lipoic) Acid, Allantoin, Glucosamine HCI (D), Carnosine (L), Retinyl Palmitate, Tocotrienols, Squalane, Phenethyl Alcohol, Xanthan Gum, Caprylyl Glycol, Lecithin, Potassium Sorbate, Citric Acid, Hydroxyethylcellulose, Alcohol Denat., Fragrance/Parfum+ (Natural). *USDA Certified Organic / NOP. Phthalate free.
How To:
Using a spatula (to avoid contamination), scoop out a small amount and apply to face and neck using gentle upward movements. Use nightly on cleansed skin, alone or in combination with Sircuit Addict, O.M.G., or Sircuit Weapon serums as part of your daily home treatment program.
Caution: For external use only. Please avoid contact with eyes and keep out of the reach of children.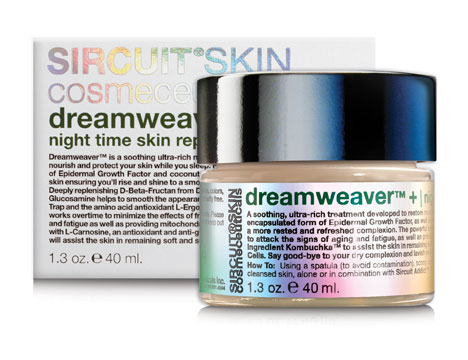 productID=524974869
Searched 22,035 products for a match. Possible dupes found...