Last Amazon price update was: June 9, 2021 3:00 am
Sircuit Skin Secret Sauce+ 1.3 oz
the ultimate anti-wrinkle solution
Sircuit Secret Sauce+ deserves a standing ovation when it comes to effective anti-aging products. A true lifesaver with numerous moisturizing ingredients, this ultra light, exquisite formula helps to improve your skin's texture by softening the appearance of fine lines, leaving your skin feeling extra soft and very touchable. Uniquely developed with a highly effective combination of Acetyl Hexapeptide-8 (Argireline), working in tandem with Pentapeptide-18 (Leuphasyl), to inhibit muscular contractions that lead to expression lines. Now also SUPERCHARGED with Matrixyl synthe6 to significantly increase the synthesis of 6 major constituents of the matrix and dermal-epidermal junction, resulting in the appearance of less wrinkles and a more youthful looking texture. Combine all of that with a huge dose of L-Sodium Hyaluronate (the Chirally Correct, pure form of Hyaluronic Acid), which intensely hydrates and plumps the skin with moisture. And yes…we did this product right. So…exact some revenge on the effects of aging by immersing yourself in this beautiful formula that will leave you looking stunning!
Benefits:
Reduces wrinkles due to facial expression.
Firms, softens, and smoothes the skin.
Improves skin's texture and tone.
Relaxes skin tissue to reduce the appearance of fine lines, wrinkles, and facial sagging.
Skin looks and feels plump and hydrated.
Featured Ingredients:
Free of artificial preservatives, colors, or fragrance and always cruelty free.
Ingredients:
Aqua (Water), Acetyl Hexapeptide-8, Caprylic/Capric Triglyceride, Glycerin, Butylene Glycol, Carbomer, Polysorbate-20, Palmitoyl Oligopeptide, Palmitoyl Tetrapeptide-7, Cetearyl Olivate/Sorbitan Olivate, Squalane, Wheat Germ Oil, Jojoba Oil, Sodium Hyaluronate (L), Benzyl Alcohol, Citric Acid, Tocopherol (D-Alpha), Xanthan Gum.
How To:
Using a spatula (to avoid contamination), scoop out a small amount onto your ring finger and apply in upward motion over cleansed skin. Especially effective around the corners of the eyes, forehead, and neck area. May be applied both morning and night. Follow with Dreamweaver for superior moisture and as part of your daily home treatment program.
Caution: For external use only. Please avoid contact with eyes and keep out of the reach of children.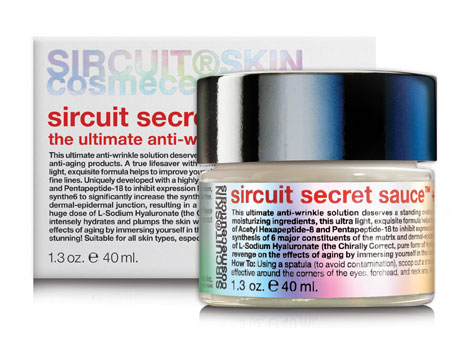 productID=524975283
Searched 22,035 products for a match. Possible dupes found...