NuFACE Collagen Booster Copper Complex 1 oz
NuFACE
Collagen
[18]
Booster with Copper Complex stimulates
collagen
[18]
formulation for maximum firming and tightening of skin and restores a natural glow and suppleness to aging or
lac
[23]
kluster skin, helping to improve and promote an even complexion.
A must-have in every skincare regimen, this Booster works to restore the skin's natural glow and elasticity while reducing the appearance of pore size for an even, polished look. Not to mention, the Booster is safe enough to use around the eye area, making for a perfect wrinkle-reduction eye serum.
Contains key ingredients, such as Hydrocotyl and Coneflower Extract[19] that improve and maintain suppleness by increasing skin firmness and density. Copper plays an essential role within the fibroblasts to promote healing, making the Collagen[18] Booster a must-have for pre and post-surgery.
Contains no dyes; the blue hue is a property of the copper complex.
Directions:
Apply evenly over the entire face, neck and decollete area. Tap into the skin with fingertips. May be used around the eye and mouth areas. Use before NuFACE treatment. When layering, use Booster after serum.
Note: Do not use in combination with the NuFACE Lifter serum.
Ingredients:
Water
[20]
(
Aqua
[20]
),
Lecithin
[21]
,
Dipalmitoyl Hydroxyproline
[3]
,
Beta-Sitosterol
[7]
,
Linolenic Acid
[11]
,
Tocopherol
[16]
,
Sodium Ascorbate
[17]
,
Mannitol
[24]
,
Butylene Glycol
[8]
,
Centella Asiatica
[6]
Extract,
Echinacea
[19]
Purp
urea
[25]
Extract,
Aloe Barbadensis Leaf Juice Powder
[2]
,
Panthenol
[14]
,
Yeast Polysaccharides
[5]
,
Carbomer
[22]
,
Triethanolamine
[9]
,
Phenoxyethanol
[12]
,
Caprylyl Glycol
[10]
,
Ethylhexylglycerin
[12]
,
Hexylene Glycol
[1]
,
Decarboxy Carnosine HCL
[4]
,
Copper PCA
[15]
,
Disodium EDTA
[13]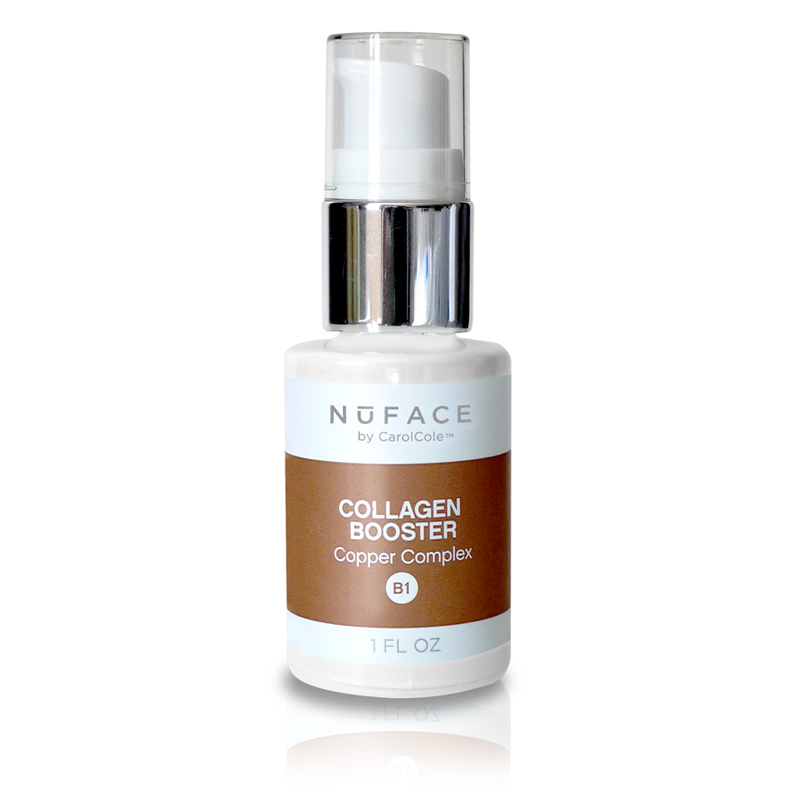 productID=524974640
Searched 22,035 products for a match. Possible dupes found...