Pevonia Botanica Power Repair Age Correction Refining Marine D.N.A. Cream 1.7 oz
Embrace classic, smooth, and refined skin with Pevonia Botanica Refining D.N.A. Cream. This moisturizer maintains the delicate balance between moisture and health by controlling excess oil and shrinking pores.
Squalane[17] Celandine Extract is softening and hydratin[20]g. Hyaluronic Acid[8] boosts the skin's natural moisture levels. Vitamin E[15] protects skin from damaging free radicals.
Directions:
Apply both morning and evening to clean face and neck.
Ingredients:
Water[16], D.N.A. (Marine), Glycerin[18], Glyceryl Stearate[4], Squalane[17], Hyaluronic Acid[8], Titanium Dioxide[6], Carbomer[13], Glyceryl Stearate[4], Cetearyl Glucoside[5], Tocopherol[15] (Vitamin E[15]), Cucumber[19] Extract, Ginkgo[3] Biloba Leaf Extract, Safflower Seed Oil[10], Caprylic/Capric Triglyceride[2], Sodium PCA[12], Tocopheryl[15] Acetate (Vitamin E[15]), Dimethicone[14], Sodium Citrate[11], Carbomer[13], Phenoxyethanol[9], Caprylyl Glycol[7], Ethylhexlglycerin[18], Hexylene Glycol[1], Gardenia Tahitensis Flower Extract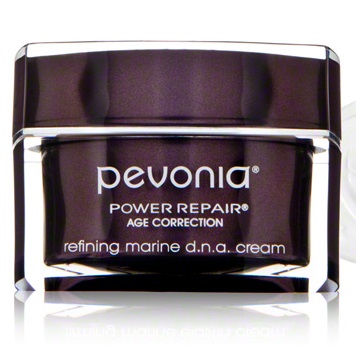 productID=524974711
Searched 22,035 products for a match. Possible dupes found...